BTS CEO on the post-pandemic prospects for the battery industry
BTS CEO on the prospects for the battery industry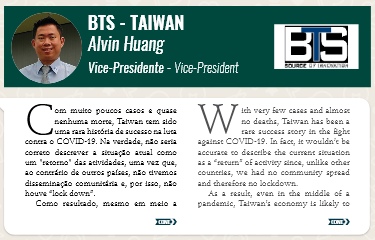 Our CEO Alvin Huang was featured in an industry-wide survey in the September edition of
Pb Magazine
, South America's leading lead-acid battery journal and one of the most widely read specialized publications.
Understandably, the main focus was on the pandemic and its economic consequences. You can read his answers below.
What do you think about the full return of activities in your country?
With very few cases and almost no deaths, Taiwan has been a rare success story in the fight against COVID-19. In fact, it wouldn't be accurate to describe the current situation as a "return" of activity since, unlike other countries, we had no community spread and therefore no lockdown.
As a result, even in the middle of a pandemic, Taiwan's economy is likely to grow this year, driven by the electronics and machine tool industries, which are already benefiting from the trend towards greater automation and the worldwide deployment of 5G networks.
As far as BTS is concerned, our production capacity remains intact, and we are completing most orders according to schedule. At the same time, we are acutely aware of the difficulties some of our customers are facing, and we are going to great lengths to accommodate their needs, offering them all the flexibility they need right now.
Where you live, what are most of the people thinking about this situation? What is your opinion on how your regional/national government is handling it?

Taiwan is an open society, and both the media and the public tend to be very critical of the government. Because they hold themselves to high standards, the Taiwanese sometimes underestimate their own strengths. So, to many people, it came as a surprise how well we have done so far. The authorities' crisis management has been nothing short of impressive, resulting in a sense of pride and unseen levels of public trust.
However, we are also deeply concerned about our customers, friends and relatives abroad. We would like them to know they can count on us in these difficult times. "Taiwan can help" is not an empty slogan – Taiwan is indeed helping with medical supplies, personnel, and of course, the millions of masks and test kits we have donated to other countries.
At BTS, we are also doing our part, finding new ways to provide our customers with first-class remote assistance during and after the pandemic, as well as helping them get ready for the post-COVID-19 recovery with new, smarter, and cleaner technologies.
What are the safety measures you think will be necessary to keep after the crisis?
One of the reasons Taiwan has done such a good job is that it had already faced the SARS epidemic in 2003. The rest of the world is in a similar position now, and we will all have to adjust to make sure we are ready when the next pandemic hits. Some of those changes will have a lasting impact on the way we live, work and travel; some will directly affect our industry.
We are already noticing an increased interest in our products as more countries go back to work. The need for physical distancing is driving people away from public transportation, resulting in a growing demand for car and motorcycle batteries, while those still working from home depend on a stable internet connection, which in many places requires a backup power source.
When we introduced our smart assembly lines at last year's Fenibat, features like remote access may have seemed overkill; now everybody understands they are essential. It is no exaggeration to say that we are in the midst of an industrial revolution, and the arrival of 5G will further accelerate that process. BTS is committed to helping our customers keep up with those trends, spearheading the adoption of new technologies and making innovation affordable for battery makers all over the world.
The entire September edition is available for download at Pb Magazine's
website
.